Google Pixel 6 series has been revealed online in a new video by tipster Jon Prosser, who posted a detailed video on his YouTube channel. According to the video, Google Pixel 6 will have a completely revamped design. The back has a really prominent camera bump going by the pictures. But unlike other phones, where the camera hump is usually tucked away in one corner, on the Pixel 6 series, it is seen across the back in a rectangular module.
In the video, Prosser also states that the Pixel series will have a regular Pixel 6 and Pixel 6 Pro this time. It seems Google is also doing away with the XL moniker on its phones.
Overall, the design is quite different from previous Pixel phones. There's an orange band at the top, followed by the camera hump and then the phone is all white in colour. Prosser has shared 3D renders of two colours options for the Pixel 6 series.
The Pixel 6 has a white body at the back with the orange band on top, and the Pixel 6 Pro, which has a slightly washed out orange colour at the back. The Pixel 4 had an orange colour option for those who remember. It also looks like Google is going for an in-display fingerprint display sensor on the upcoming phones. The video also claims that the Pixel 6 Pro could come in a champagne colour finish, and hints it might be a more expensive variant.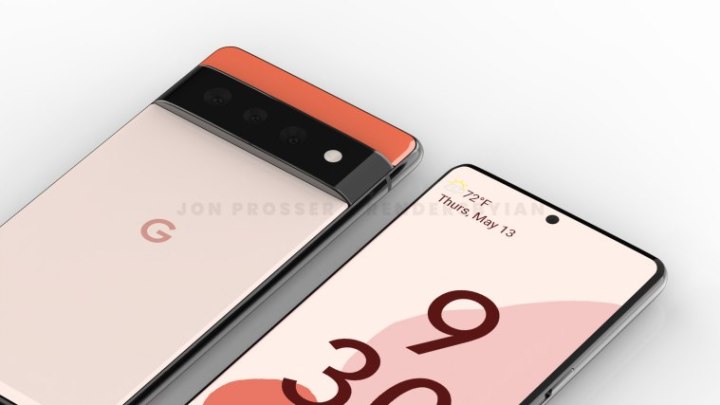 The Pixel 6 Pro in the light orange colour. (Image via Jon Prosser)
Based on the 3D renders, the main difference between regular Pixel 6 and the Pro variant will be around the cameras. While the Pro option has three cameras at the back, Pixel 6 will get two.
Pixel 6 to run Whitechapel custom chipset
According to Prosser, the main reason for the Pixel 6 design revamp could be that Google is going to introduce its own custom chipset, codenamed 'Whitechapel' on the phones. This was first reported by 9to5Google in April that the Pixel 6 series will run the "GS101" chip.
With its own custom chipset, Google will go on the same path as Apple, which has its own A series processors for iPhones, iPads and now the M series processors for its Macs.
According to 9to5Google, the chip is being developed with Samsung Semiconductor's system large-scale integration (SLSI) division. The report also said the chipset would have a three-cluster design, "using two Cortex-A78 cores, two Cortex-A76 cores, and four Cortex-A55 cores."
It is not clear when the Pixel 6 series will be officially announced. Typically, Google announced the phones around the September-October period. Google's Pixel series has not been released in India since the time of the Pixel 4. Only the Pixel 4A was release in India, which is the more budget friendly option.